When you have added an Atomos Connect device to your show as a source, you can communicate with the person using the device with the integrated intercom or talk-back functionality. The Atomos Connect device also has a listen feed of a Program Mixed Sound (PGM) of the show output, which is also automatically made available when the device joins a running show.
You will need a pair of headphones and a self-powered or dynamic microphone* to use the intercom feature. An electret microphone will not work because the Atomos Connect device does not provide a 'plug-in-power' output to the microphone.
The Intercom works by using the analog audio input, so when the device is in CONNECT mode, you can no longer use this separate analog MIC/LINE input to record as a source. The embedded audio from your SDI/HDMI camera is unaffected and is used as the audio mix source for the show and can also be recorded locally.
Once your device is connected to the show you will see the green cloud icon in the top left corner of the screen appear. Now you can go ahead and load up the main menu and scroll through the tabs. A new menu labeled 'Intercom' will have appeared. Tap on the 'Intercom' menu page.
Intercom configuration Page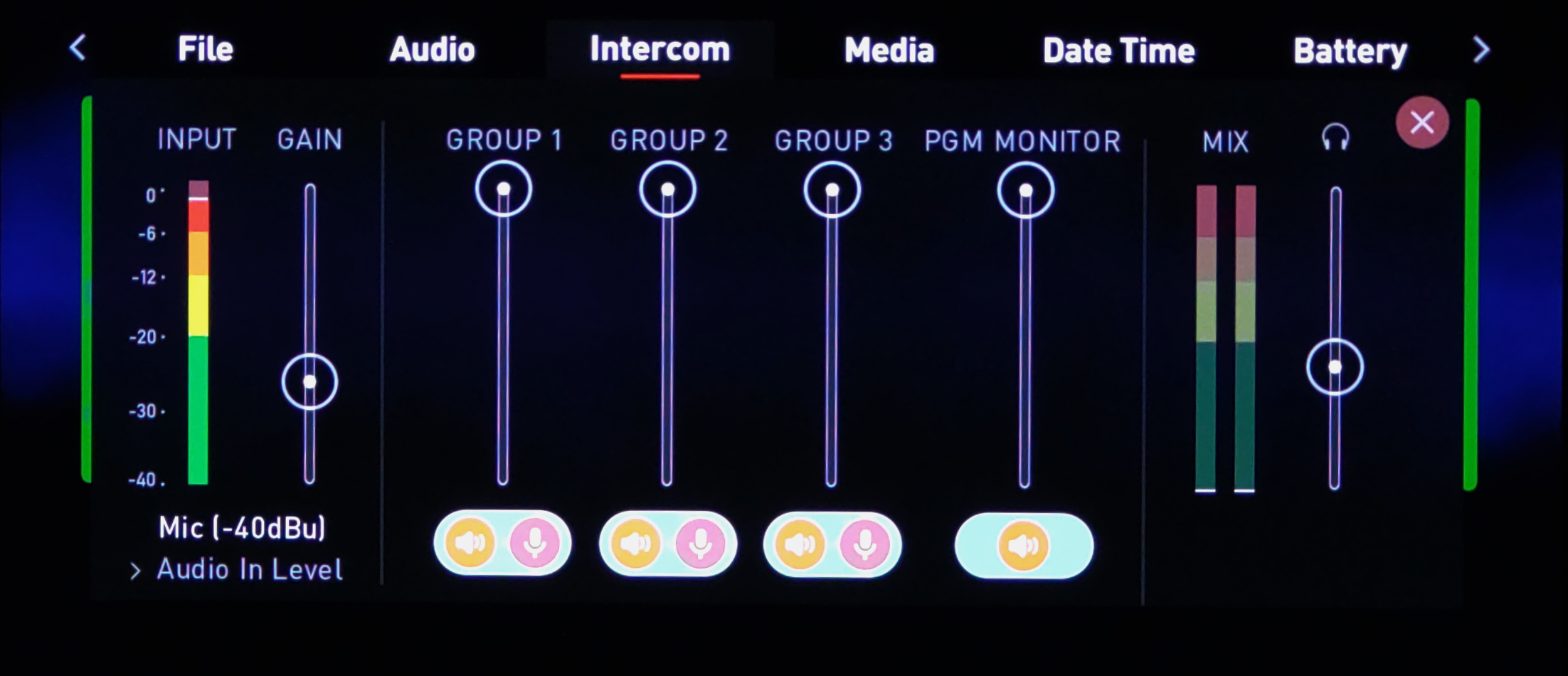 The configuration is split into three areas:
On the left is the Intercom microphone input with the VU meter, gain slider, and a tap to switch between Mic or Line levels.
The middle 4 sliders are to adjust the balance between the audio level of the Intercom groups 1, 2, and 3, and the Mixed Program (PGM) audio. Below the mixer are control buttons to turn the output and microphone on or off for each group and the program monitor.
On the right is the master headphone output control, with a VU meter and headphone volume slider.
Selecting one of the groups here on your device is only part of the configuration. Your device will also need to be configured in the ATOMOS - Surface App (running on iPad) to communicate with that group.
Once the configuration is complete tap the red X to return to the input image.
| | |
| --- | --- |
| You can now talk over the Intercom by simply taping on the talk button to talk and taping a second time to finish. | |
* An example of a compatible dynamic headset mic is this Monacor/IMG HM-30 model: https://amzn.eu/d/f7rxxMq