my.atomos.com allows you to manage all of your ATOMOS devices in one place. By registering your products, you can then activate codecs and features, download user manuals and firmware updates. Registration also extends your warranty from 1 to 3 years from the date of purchase on selected products.
Dashboard
The dashboard is the home page of my.atomos.com that provides an overview of your ATOMOS devices, and displays tutorial videos from ATOMOS Academy. The side bar allows you to manage your devices, visit ATOMOS Academy or quickly switch to your ATOMOS Cloud Studio account.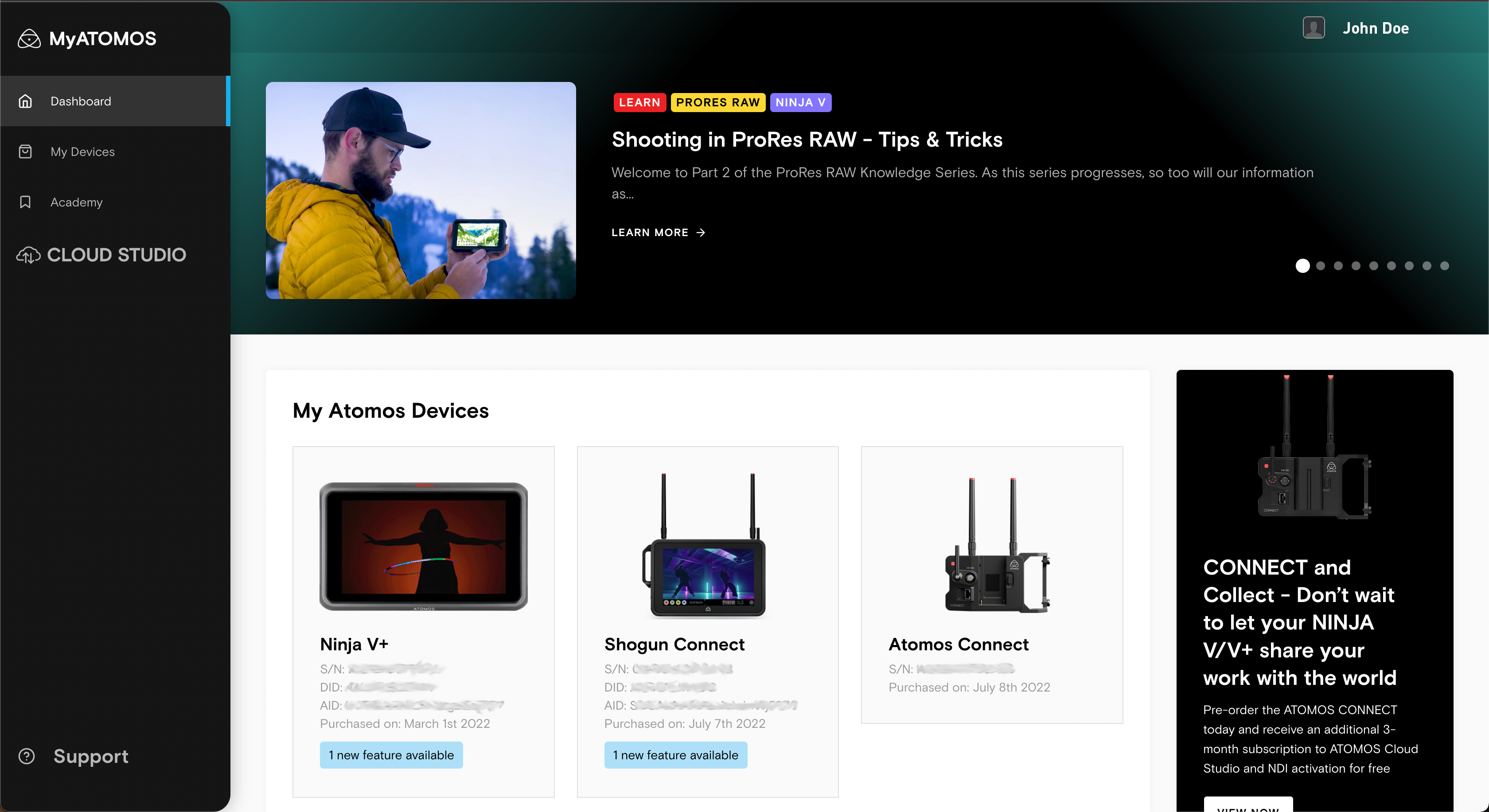 My Devices Page
The My Devices page lists all of your registered ATOMOS products. Click/tap on the image of a registered product to open the product page.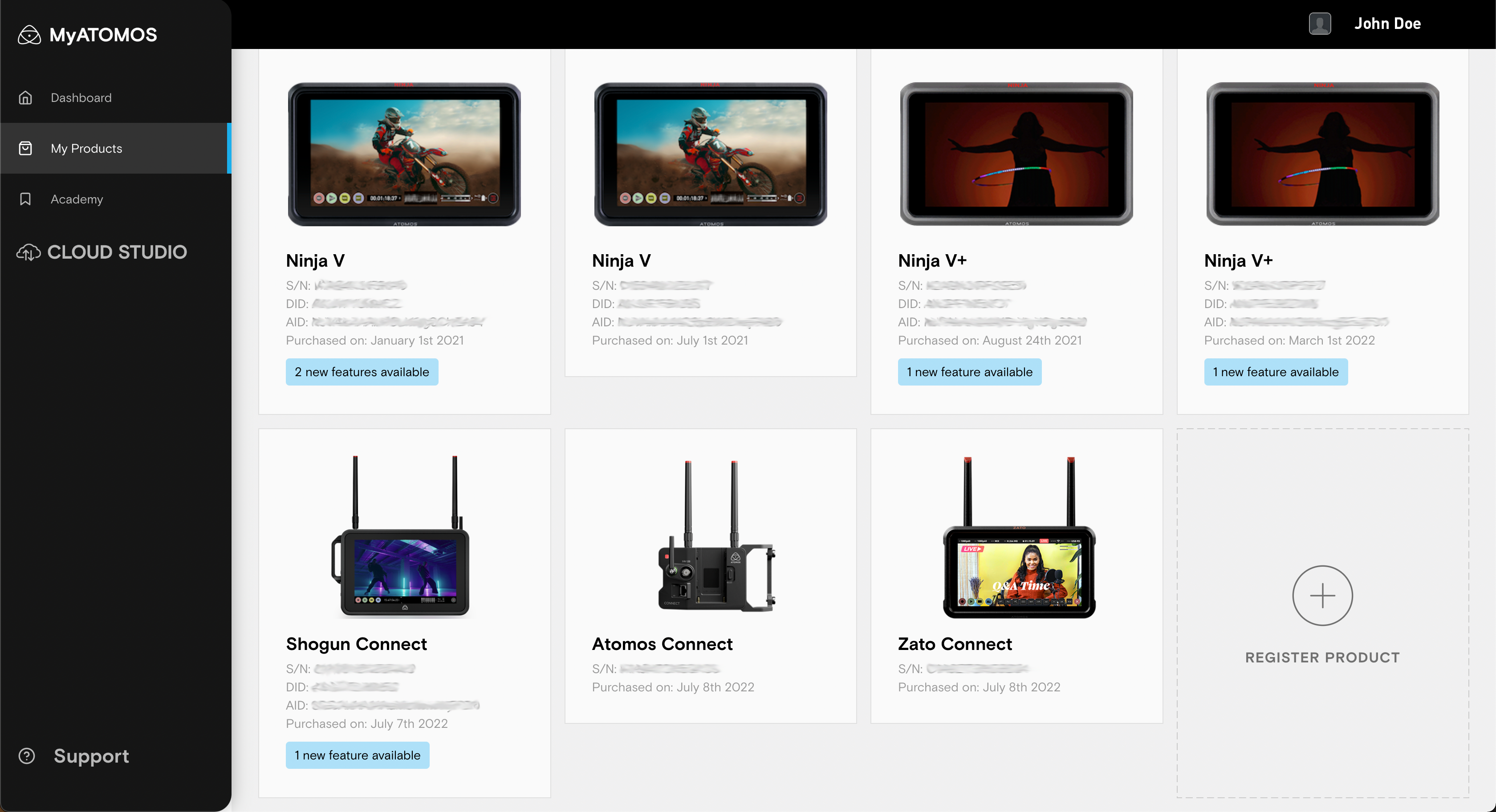 Product Page
The product page displays the serial number, DID, AID and purchase location and date across the top. The Features tab below allows you to activate codecs and purchase additional activation keys to unlock additional features for your ATOMOS device. The Firmware Updates, Product Manuals and Connect tabs provide additional support that is specific to your device. See below for more information on each tab.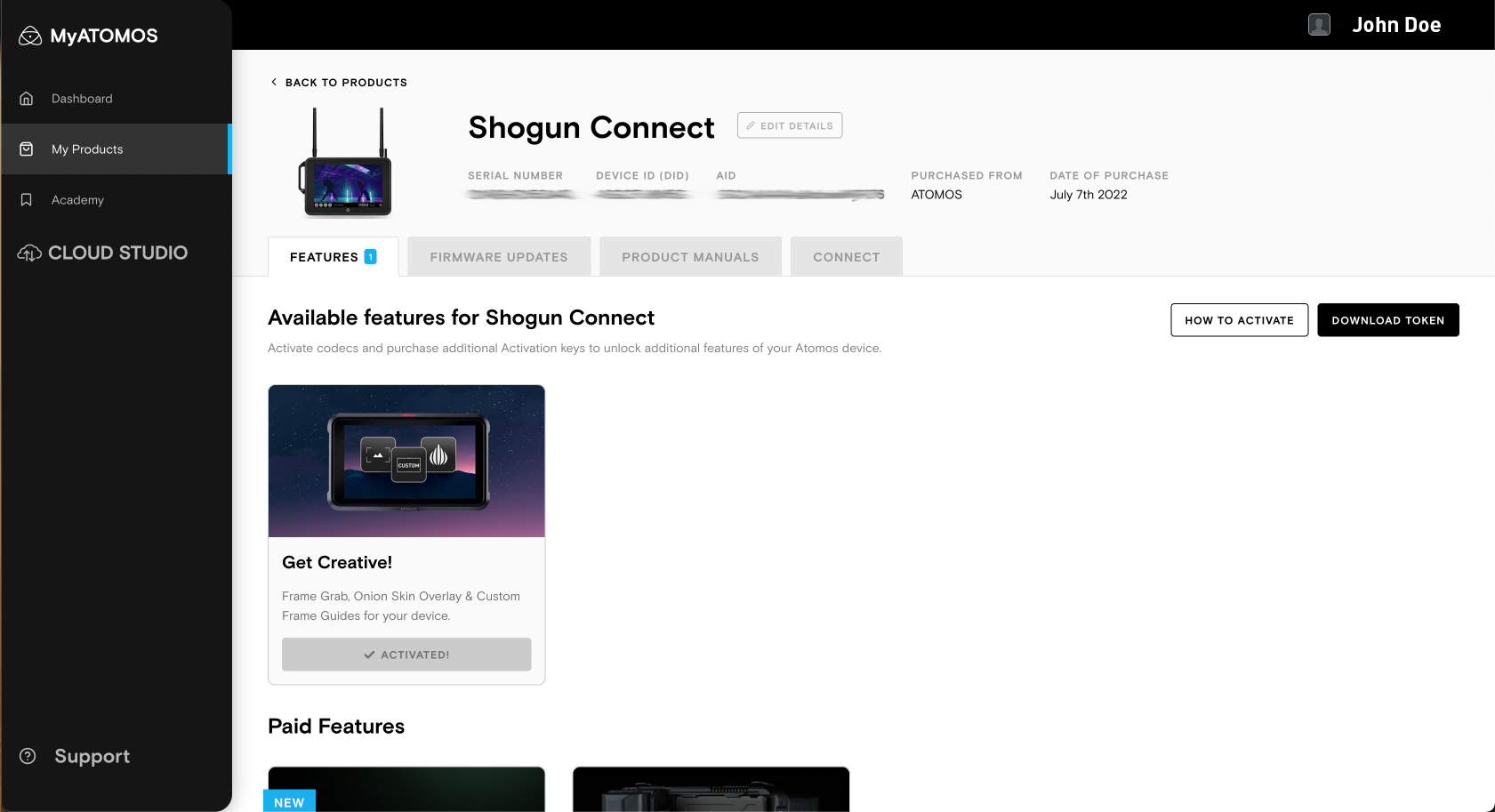 Features Tab
The Features tab displays the codecs and other features that can be activated for the product, as well as those that are already activated. Click the Activate Now button on the codecs or features you want to activate. Once you have selected all the codecs and features that you want to activate, click on Download Token. A token containing activations for the selected codecs and features will then be downloaded, so that you can load it onto your device. The token will also be emailed to your registered email address.
Note: If you have previously activated these codecs, you do NOT need to activate these codecs again.
Note: You can activate multiple features at one time.
Note: A single activation token will support all the features you want to activate on your device, so don't load individual tokens for single features onto your SSD. The activation token will remain in your account on my.atomos.com.
For further instructions on activating features on your device refer to https://atomos.zendesk.com/hc/en-us/articles/4514756643983-My-Atomos-Feature-Activation-Guide
Firmware Updates tab
The latest firmware and release notes will appear at the top of the page, along with the procedure to update the firmware on your device. Below that, the previous versions of firmware and the release notes will be listed. Click on Update to download the firmware to your computer. Click on Download Release Notes to open the release notes in a new browser window.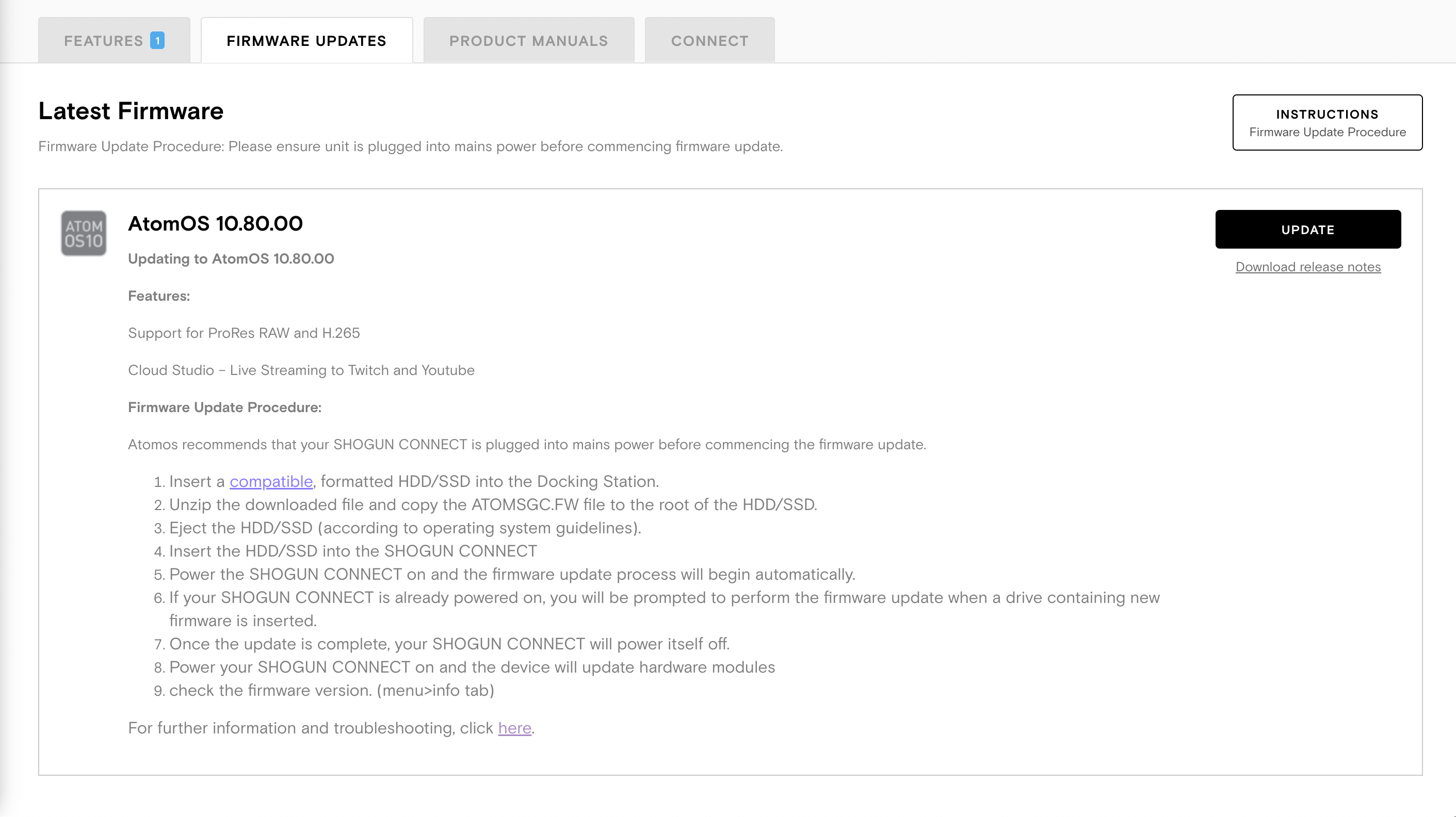 Product Manuals tab
Product documentation like Quick Start Guides and User Manuals are available for download in PDF format.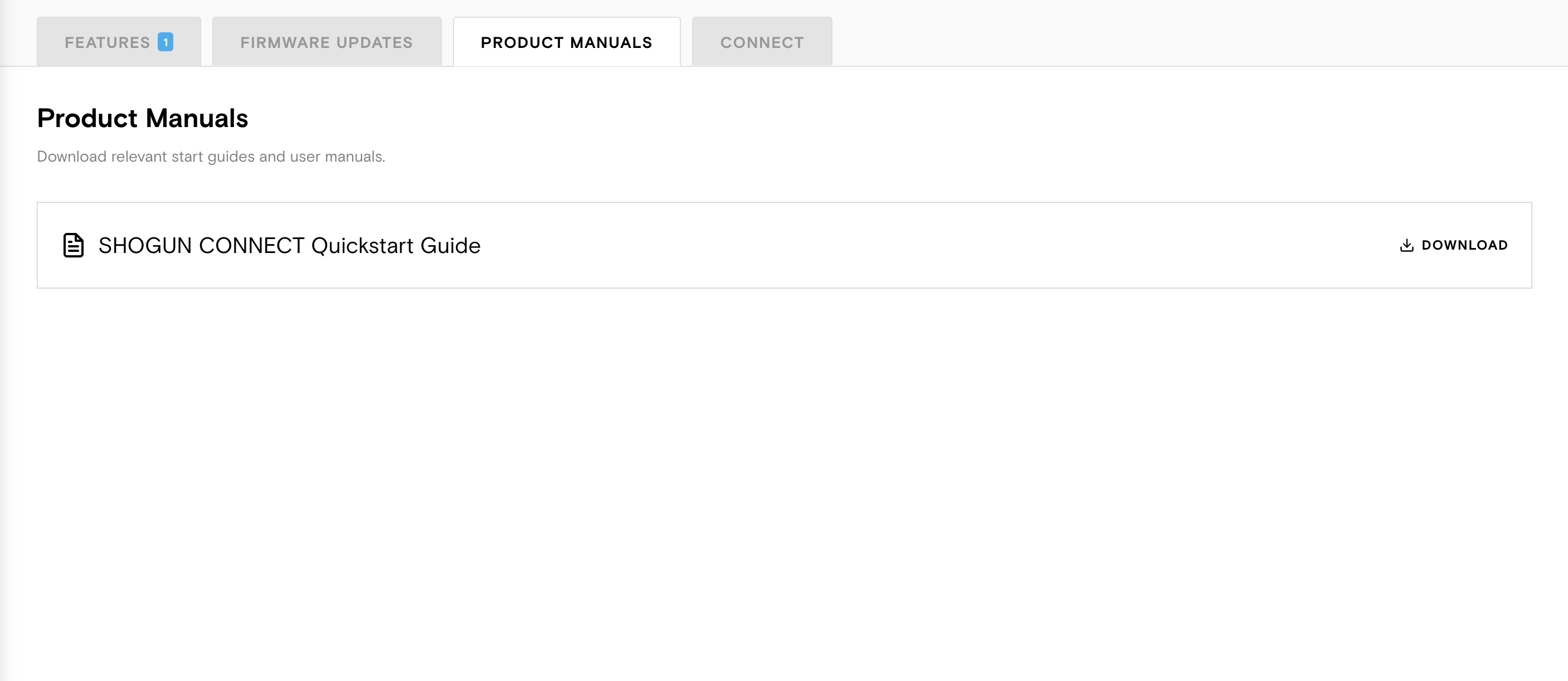 Connect tab
Provides information on how the new CONNECT series of products allow you to expand your workflow options by pairing your device to Atomos Cloud Studio. Once you have updated your device, you'll be ready to CONNECT with Cloud Studio by following the link in the Cloud Studio link side bar.